---
School Facilities
I would like to introduce you to some of the school facilities. Out of all of them, the most important ones are definitely the school gym and the cafeteria.
Our school gym is located in the basement along with a fitness room. The gym itself is big enough for PE lessons, where students play some games and is equipped with a climbing wall. The fitness room contains many machines for toning your muscles or doing cardio exercises. We can also find a Ping-Pong area in the attic.
The school cafeteria offers a choice of two dishes for each day plus you get a soup and a drink. On some days, you can even choose some dessert such as yoghurt or fruit.
However there are lots of other facilities worth mentioning. For example the red computer room or the blue computer room, both of them offer modern equipment such as new computers and new wooden chairs, also a projector connected to the teacher's computer. There is a computer and a projector in almost every class as well.In addition, we have classrooms adapted to the purpose of a specific subject. On the ground floor you can find the Physics lab, on the 1st floor we can find the lab and classroom of Chemistry and on 2nd floor the Biology class and lab.
All in all, I would say that the Masaryk Grammar School is very well equipped with very modern technology.
Michaela Krausová, septima A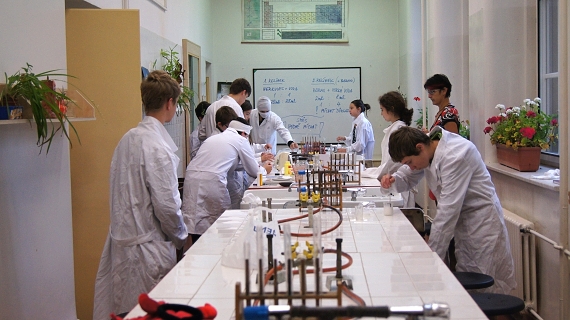 ---
School Rules
If you have ever roamed through the corridors in our great school, you could have also heard such complaints as: "Why did she kick us out of the gym? We were just sleeping there!" or "That is for another time. The school doorman did not let me in!" However, most of these complaints are unjustified because of a lack of familiarity with The School Rules.
Firstly, the building is open till 7:55 a.m. and the students coming late are supposed to wait in the foyer till 8.05 a.m. As you perhaps did not expect, it is not just the cruel rule of the doorman.
Secondly, you should not be in a gym, lab or other specialized classroom without the supervision of a teacher, which forbids us from sleeping in them without letting them know.
In addition, when you have a free lesson, you should go outside, to the classroom P22 or to the recreation room. The only problem inherent in this is the nonexistence of a recreation room.
By the way, you should leave school within ten minutes of the end of your last lesson. Do not ask me how we are supposed to do it if we have lunch.
On the other hand, teachers are supposed to schedule our tests throughout the whole range of the school year so that they do not accumulate in some periods. You can try to use this rule before and after Christmas, where many of them are scheduled.
I hope I helped you to understand what you can or cannot complain about.
Vlachovský Karel, septima A
---
Teachers at Masaryk Grammar School
As hard-working students, we all consider ourselves to be the burden bearers in this crazy system of grades, exams and non-ending lessons. However, it is actually the teachers who have been making our school work perfectly for the little less than a century for which this school has existed. It is them whose obligation is to prepare for every single lesson, whether they are in a good mood or not and it is them for whom the class waits every single morning, longing for large pieces of new information. Therefore, there is no one else at this school to whom I would rather like to pay homage than our beloved teaching staff.
Do you find teachers at your school boring? Or even bored by teaching? Well, our school is far from the usual. There are over sixty teachers at our grammar school and each one of them has their own sphere of activity. Why don't you ask Mr. Stoček to teach you our school's more than traditional sport – kin-ball? Or you could go and visit Mrs. Drahokoupilová and let her charm you with her knowledge of the secrets of the human body. Our teachers are here to teach you, not to make you feel bored or even disgusted. Since this is what a prestigious school is about.
And if this article has not convinced you of the qualities of our teaching staff, then simply come and visit. I can vouch for the fact that no other teachers in the whole wide world know more about literature, mathematics, science, biology, economics or information technology than ours do.
Štěpán Charvát, septima A
---
The School Cafeteria - Where Surprises are Being Served
There is no place quite like the school cafeteria. I've been experiencing its food for a few years by now and I must say that, despite a few exceptions, the school cafeteria has never ever really disappointed me.
It all starts with queueing. The feeling of despair when you enter the corridor full of noisy little brats is really intense. You cannot hear your own voice, you are feeling really hot because you are surrounded with the rest of the herd, and the only thing that is worse than the heat is the smell of the mob and the goodies waiting behind the door. And the only thing you can do is move forward and hope you don't get trampled.
Finally, you reach the door. Don't you dare to wear your shoes, unless you want to be sent to the back of the line (and you don't want to go through that again). What I can really appreciate about the school cafeteria is the artistic concept of the room. Pictures of food, drawn by local artists, can be seen on the walls. I always recall the faces of the former students who drew them. Nevertheless I do not care too much about the food in the pictures; I prefer the food on the plate.
After equipping yourself with a tray, cutlery and a bowl of soup it is finally time to greet the loveable ladies behind the counter and insert your card into the terminal. "Is it #1, or #2 today?" I always wonder. Number one looks like something deep-fried with potatoes, number two is some meat with rice and UHO (universal brown sauce).
The food is usually simple – you always get a soup, most likely a broth, and the food is, in the most cases meat (with some sauce) and a side dish, usually rice, dumplings, potatoes, noodles... Sometimes there are some vegetarian meals – for instance fried cheese, potato croquettes – or sweet meals – pancakes, or dumplings with fruit filling. There is a wide range of beverages available: you can choose between tea, and flavoured water. If it is your lucky day, you can even get cocoa milk.
ow, I should mention the best part of the food in school cafeteria – the creative names of food. The favourite of mine is "Tidbit of the great Graf Zoltan Csecsödy" It is basically a meat with Hungarian-ish sauce and rice.
Despite the fact that the school cafeteria can sometimes be a place of horror, it has something which will make you look forward to other culinary experiences. I must say that it has its bugs, but I have learned to actually like the cafeteria and I cannot imagine my day without it.
Vojtěch Milota, septima A
---
Excursions
At our world-class grammar school, we are often given an opportunity to participate in various excursions – either in the Czech Republic or abroad.
There are usually two internal excursions a year for each class. These are connected with building our knowledge in many ways – geography and biology excursions (Koněprusy caverns, Soos nature reserve, etc.); chemistry excursions (glass or plastic factories); history excursions (mainly museums); or physics excursions (observatories or science centres – for example Techmania).
Besides these, there are some external excursions as well. Every year each student has a chance to take part in something and travel abroad with his or her schoolmates and teachers. Again and again, our language-teachers organize excursions to England, France or Germany. Apart from these which are held chiefly to improve our communication skills, there are also some which are more concentrated on geography and biology – excursions to Norway, Scotland, Slovakia – or on history and art – excursions to Italy, Austria, France.
What I like about all the types of excursions is the friendly atmosphere. Both students and teachers must admit that being out of the depressing classrooms and getting to know something new instead is much better. The next thing is that the participants are normally interested, therefore there are no sour faces and troublemakers, which must be a likeable change for the teachers as well.
To sum up, I would like to express my gratitude for these opportunities which our teachers offer. Despite many things about our school which do not suit me, excursions are one of the parts I really enjoy.
Jana Herličková, septima A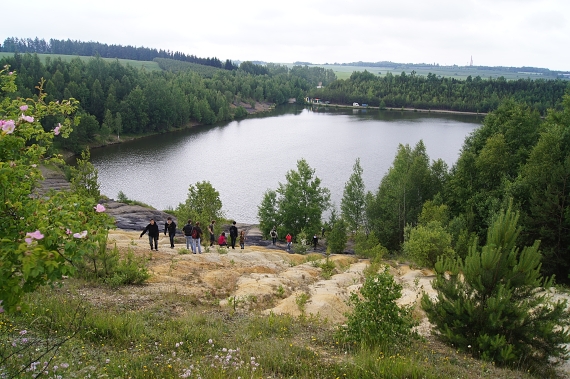 ---
Competitions
Masaryk Grammar School supports its students in various ways. One of these ways is promotion of participation in competitions in nearly all fields. Masaryk Grammar School tends to stick to its long tradition of taking part in e.g. Olympics organized by the Ministry of Education. Added to that, as a language focused school, it also encourages students to participate in language competitions, as well as in other humanities competitions. Despite being based mainly on languages, sporting events are also an important field of realizing the school's efforts. The subjects students can compete in can be divided into several categories: Science, Languages, Social Studies, Sports and Other.
In science we should definitely mention Chemistry, Physics, Mathematics, Biology, Astronomy and IT Olympics. Furthermore, there are many different competitions in Mathematics and Physics, such as Fykosí Fyziklání, Klokan, Pythagoriáda etc. In recent years students have proven to be very successful in this category.
As for languages, the main area of interest, we ought to state the Czech language Olympics, conversation competitions in English and German, Literary quiz, Ars Poeticae, Young Demosthenes and many more.
Social studies include the Geography and History Olympics, political events, such as Prague Student Summit, European Youth Parliament and Jugend debatiert, and there has been success even in the Prezentiáda competition.
Promoted sports are mainly athletics, swimming, floorball, volleyball, running and chess. Unclassified competitions are for example the Ecology Olympics or the competition called Pišqworky.
Thanks to our experience, teachers are able to help their students with preparation and the school can develop our activity on both a national and local level. Students represent the school with great zeal and that is reflected in their results.
Renáta Chalupská, septima A 
---
Sports Activities at Our School
Masaryk Grammar School offers students many kinds of sports activities. The school has its own gym, workout room, limber-up room, climbing wall and adapted attic room for table tennis and shooting. Apart from the classical sporting equipment, it possesses some skiing equipment, a few canoes and windsurfs.    Besides the compulsory physical education, students can choose to attend some voluntary sports club. The most popular are floorball, aerobics, climbing, ball-games and table tennis.
The compulsory PE comprises 2 hours a week and it´s obligatory for each student, except for pupils with any health troubles. There are swimming lessons instead of PE for these students. PE contains an introduction to the basics of many kinds of sport, such as basketball, volleyball, football, floorball, dodgeball, gymnastics, swimming and shooting. In spring the lessons take place outside, so the students try other sports like softball, kinball, frisbee, orienteering and athletics. 
The older students of the last two years have a special PE lessons that they can choose for every single quarter term. There are lots of options of sports, too. In spring and in autumn the proposed sports are outdoors (in-line skating, tennis, softball, football, long-distance running, kinball, frisbee). In winter, although the students have to stay indoors, the offer is also wide and includes sports like ice-hockey, skating, weight training, aerobics, squash, table tennis, badminton, fencing and swimming.
The school organises some sport courses, such as the skiing course for students from the 2nd and 5th year and a summer sport course for students from the 7th year. The summer course contains cycling, hiking, canoeing and horse riding. Every year the school sports club organises for its members skiing and canoeing tours. There are also a few hiking expeditions for the most persistent students (for example to Armenia, Romania, Carpathian Ruthenia, Bulgaria and Syria).
There are lots of competitions every year. Students compete with teams from other classes in school leagues and tournaments. They are also very successful in the regional and even in the nationwide level of competitions.
Viktorie Sloupová, septima A
---
Final Exams - The Terror of All Students
We all have to go through this: The nightmare of most high school students. The graduation exams, also called The Exams of Adulthood, are the final exams at every high school.
There are two parts to the exam, the general part and the profiling part. For every part of the exam you have to choose two subjects which you want to sit an examination from. Of course, you are already given one subject for a general part – Czech. The combination of the subjects has to be Czech and Mathematics or Czech and the foreign language you have learned at the school. The profiling part is a choice of random subjects, but you can´t choose the same ones as in the general part. You can also add another one or two subjects to your profiling part but don´t worry, it is not obligatory. All the students of the classes focussed on foreign languages have to choose at least one of the foreign languages for the exam.
After the general exams you usually have a week or two off to study for profiling exams, which is mostly about speaking, if it is not Mathematics then you have to write and solve the problem. Czech and foreign languages contain two parts, writing and speaking, as the general exam.
How does it look on the D day of the profiling exams? In the classroom there are already some teachers waiting to examine you. As soon as you walk into the room you draw a topic which you have to talk about. You spend twenty minutes for preparing your speech. After you finish the teacher asks you some questions and after that you are done with the exam.
It doesn´t look too bad, does it? You don´t have to be afraid of it at all. Masaryk Grammar School will prepare you perfectly for the exams.
Thi Thuy Trang Do, septima A